Technology changes with time, but the fundamentals and recipes in photography remains. This article was first published in 2011, revised in 2018
---
When the sun sets and night falls, begin another period when a new life begins – Life at Night. There are numerous photography opportunities for night photography at night. From the magnificent architecture lit with lights in the city, performance, street scenes, people at work and play, and fireworks in festivals and the list goes on.

Time to take out your camera and out into the streets after a day's work, explore the various places, the heartland, food courts, clubbing areas, scenic spots, the night market etc. You can also meet up with friends during the night photo shoot excursion. Before you know it, you will simply like to go photo hunting at night, when the air is generally cool.

Below are some hints which may help you in your search for scenes of a city at Night.
BEWARE OF HOTSPOTS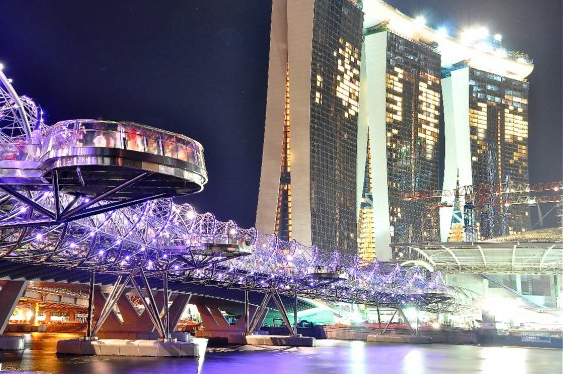 Hotspot is often one of the biggest problem faced in night photography. The source of the hotspot is usually a very bright light source which is part of a building or subject. As the overall lighting is low and dark at night, the camera light meter usually advises on a slower shutter speed. This spot of strong light source would as a result be over exposed, due to a strong contrast in exposure (overall scene is dark but the light source is bright, hence to get the overall dark scene properly exposed at night, the strong light source will be over exposed).
To remedy this, exposure compensation of minus 0.7 may help to darken the single point light source a little, and use of image enhancement software to fine tune the exposure for night photography. Another way is to photograph the scene during twilight when the sky is a dark blue but the contrast in exposure between the sky and the subject is not too drastic. If at all possible, try to avoid night scenes with a strong single point light source.
PHOTOGRAPH AT TWILIGHT and USE OF DESIGN ELEMENTS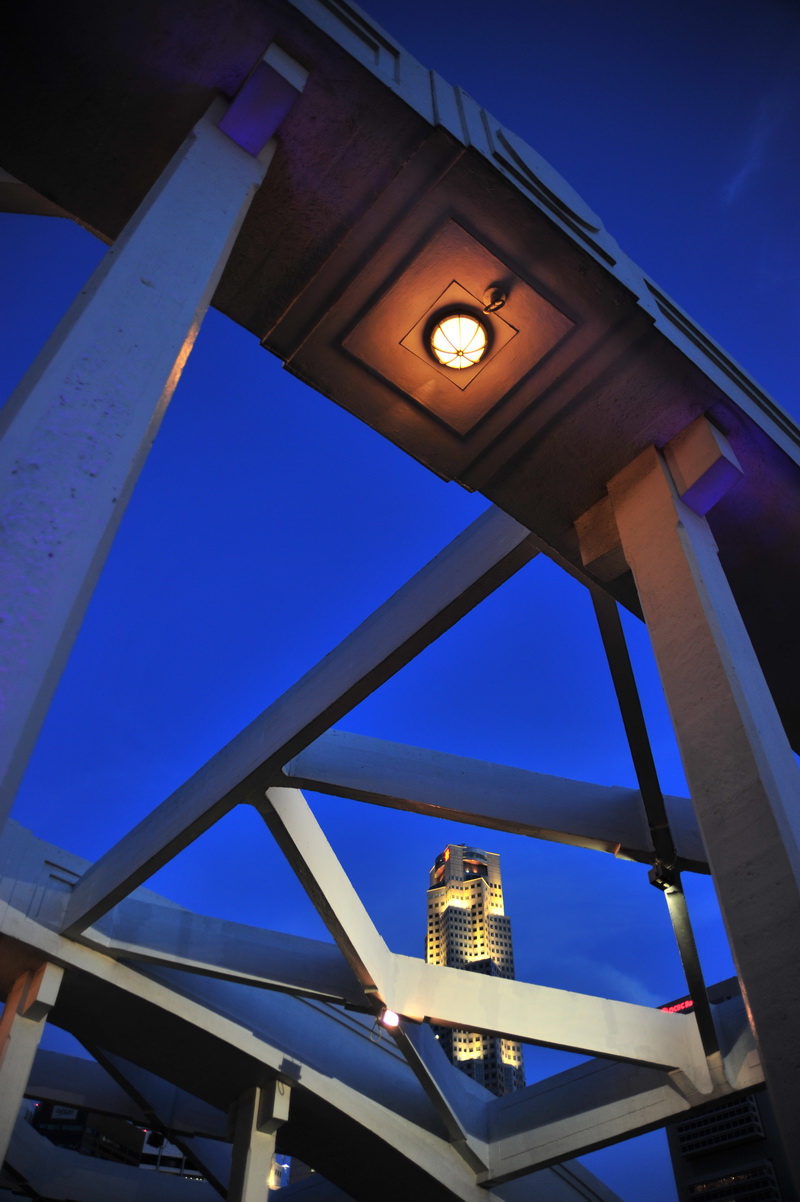 Shooting at twilight enables one to have a sky in deep dark blue and the subjects slightly lit and not totally dark as compared to bight time. Some call this period of time the "magic hours" and the transition from twilight to a completely dark sky can be so gradual that it is hard to notice the change most of the time.
Use of design elements such as framing in the above picture will enhance the visual effect of the picture. Other design elements such as reflection, patterns, shadows, perspective, silhouette, lines etc can also be used. Look out for reflections on mirrors, shining surfaces or water puddles for reflections of lit up buildings. Shadows cast by the lamps can be interesting too.
NEON LIGHTS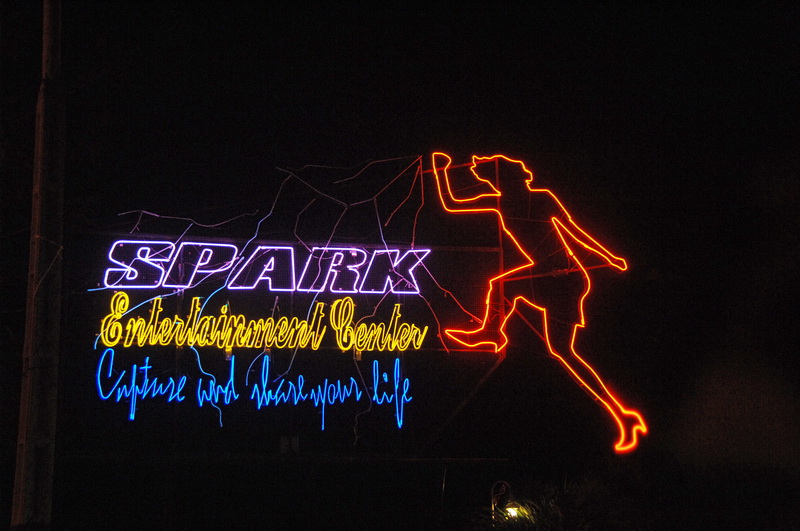 These "loud" lights can be seen from a far distance. They show the culture of a place and its night life. Not many in numbers, these can still be found in some of the clubbing areas in Singapore such as Duxton road, Club street, Keong Saik Street, Boat Quay, Clarke Quay, Carpenter street and others. These signage lights also show the night culture of the place.
USE OF SLOW SHUTTER SPEED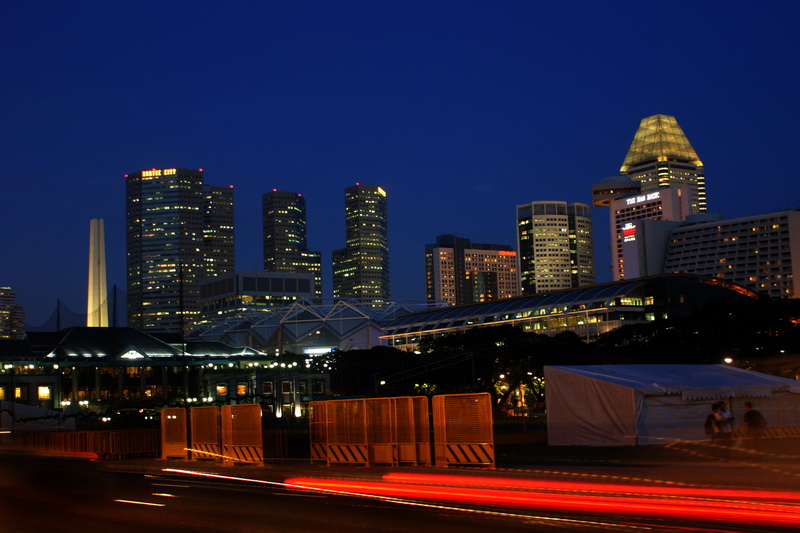 Use of slow shutter speed at night such as 20 seconds exposure can result in streaks of trail lights created by the moving vehicles. The main subjects must be identified first, in this case, the buildings in the background. The streaks of trail lights in the fore ground added visual impact to the image. You can try higher vantage points such as on an overhead bridge, or from the higher floors of the flats to get a better view of the trail lights. Tripod is definitely needed to photograph with such slow shutter speed and do be careful about tripod shake due to vibrating platform.
NIGHT ACTIVITIES, NIGHT LIGHT-UPS, FIREWORKS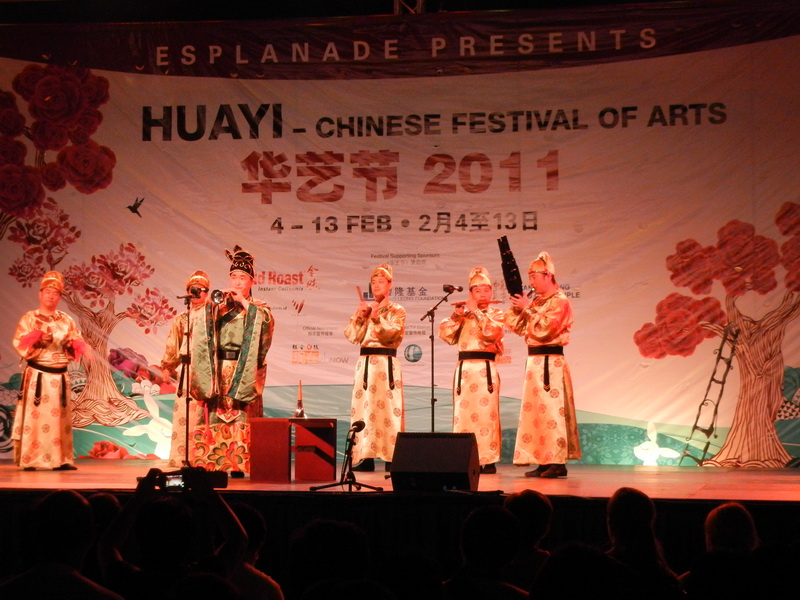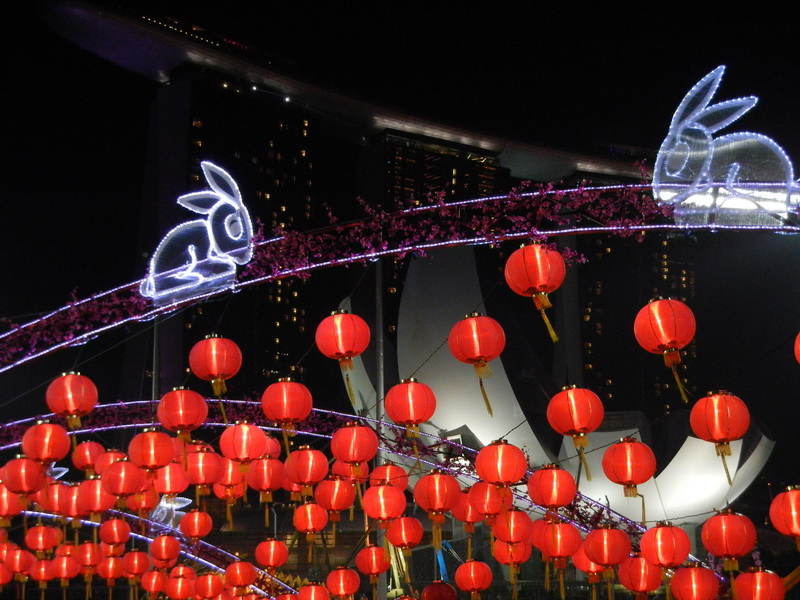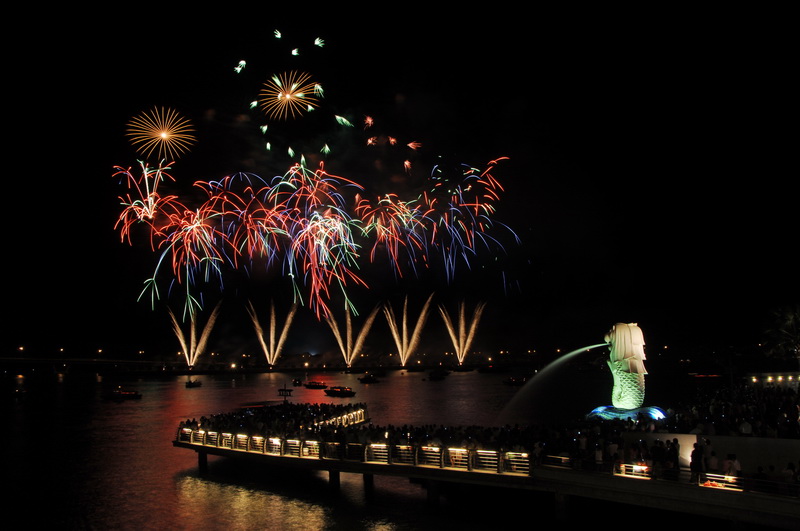 There are numerous places with cultural performance in the open nowadays. Try exploring busy places such as Chinatown, Clarke Quay, Esplanade etc. Do look out for festivals when outdoor performances abound in many corners of Singapore.
Festivals including Chinese New Year, Hari Raya, Deepavali, Christmas and other festive periods often see beautiful night lights adorning the streets in various parts of Singapore, from the city area to the heartlands.
Look out for periods where firework displays amaze the crowds. Join in the fun and capture the fireworks.
PEOPLE AT WORK & AT PLAY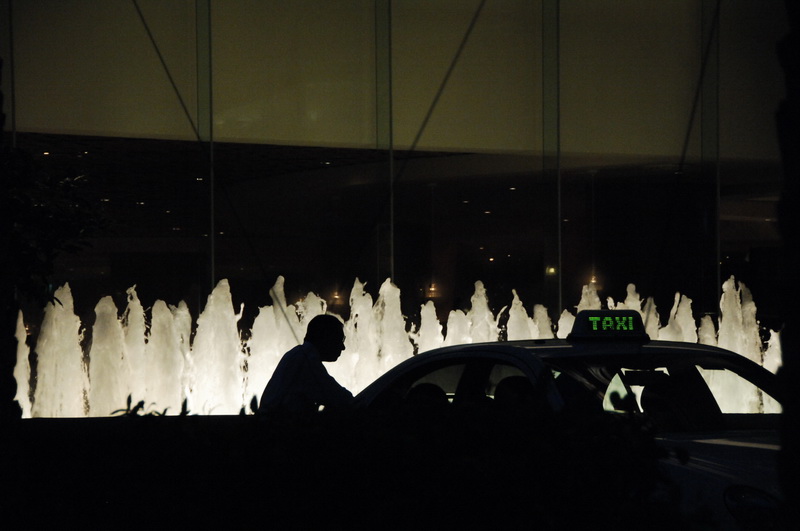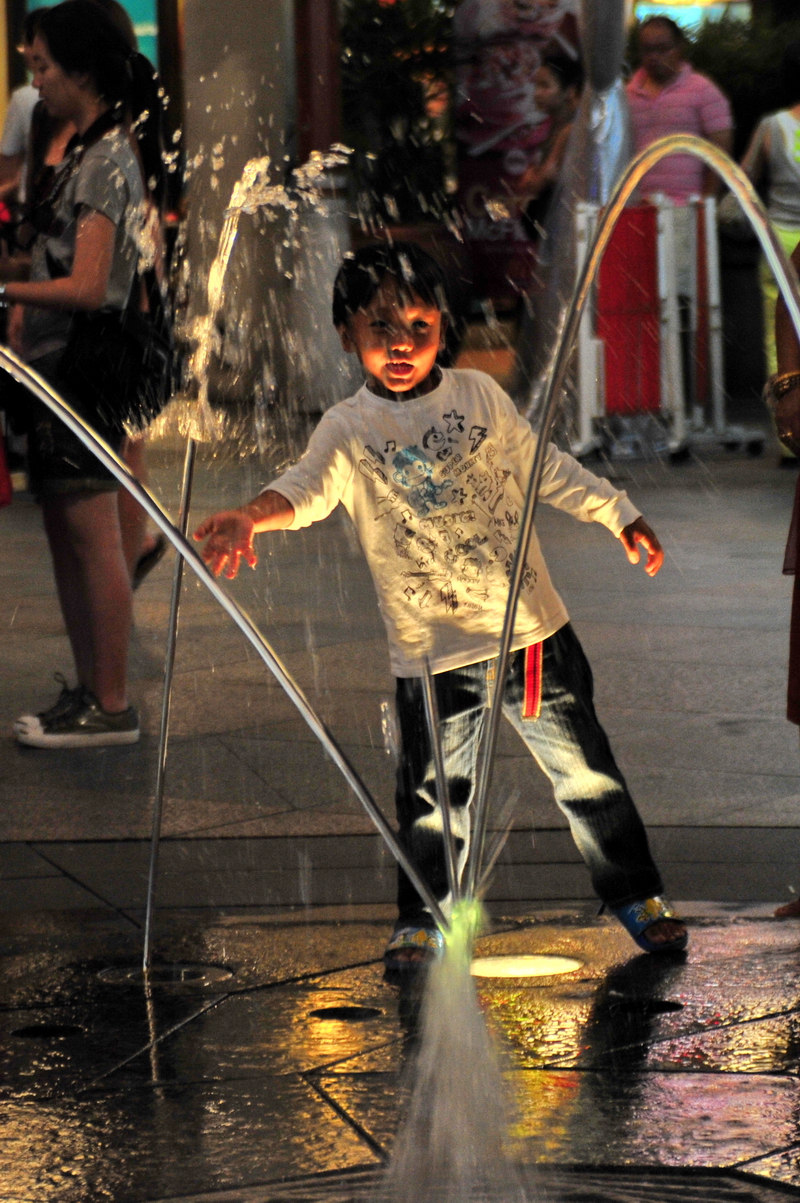 Night time is also a time when some people began their work. The taxi drivers, the food stall vendors, the wholesale fish market etc. While some people work, it is play time for the children after a day at school and for the adults working in the day time, it is time for some sports and recreation.
Let's get started, take out your camera, look around you and enjoy the City At Night.
Technical Help
It is good to appreciate some pointers from basic photography fundamentals. For many beginners, some of the common problems which they might encounter include:
Camera or subject shake due to low light condition and slow shutter speed
Messy background
Unsure of which angle to adopt
Low lighting condition and use of low ISO (both of which results in slower shutter speed) are the main culprit for camera shake and subject motion blur. If the subject is stationary, a good tripod will be useful in preventing camera shake. If you are shooting handheld, it is good to achieve a shutter speed of at least 1 / (focal length) of a second, which means that the more you zoom in (magnify the image) with your camera, it is advisable to increase the ISO to achieve a faster shutter speed. If a tripod is used, you can use a lower ISO to get a picture with less noise. However, since a slower shutter speed comes with a lower ISO, beware of tripod shake especially if you are standing on a platform with heavy vehicles moving past behind you.
If the subject is moving, a higher ISO is desirable to achieve a faster shutter speed to freeze the motion. With today's superb technology in the Nikon system, we can achieve low level of noise in higher ISO, hence one can start the night with ISO 800 and if need be, increase the ISO should one encounter a slow shutter speed or wanting a faster shutter speed to freeze the action.
Another common problem faced by photographers is the lack of ideas as to what angle or composition to use. The tip is to identify a main subject. From there, you can conceptualise the composition and it will be easier to get the angle. It is good to spend some time exploring the various angles, shooting both horizontally and vertically. If the results are unsatisfactory, you can always delete the images later. As much as possible, follow the "Rule of Thirds" composition rule.
Many beginners also often overlook the distracting objects in the foreground and background which can draw the viewers' attention away. Either move yourself to try to adopt different angles or you shift the subject (if possible) to get your desired picture.
Views: 2520